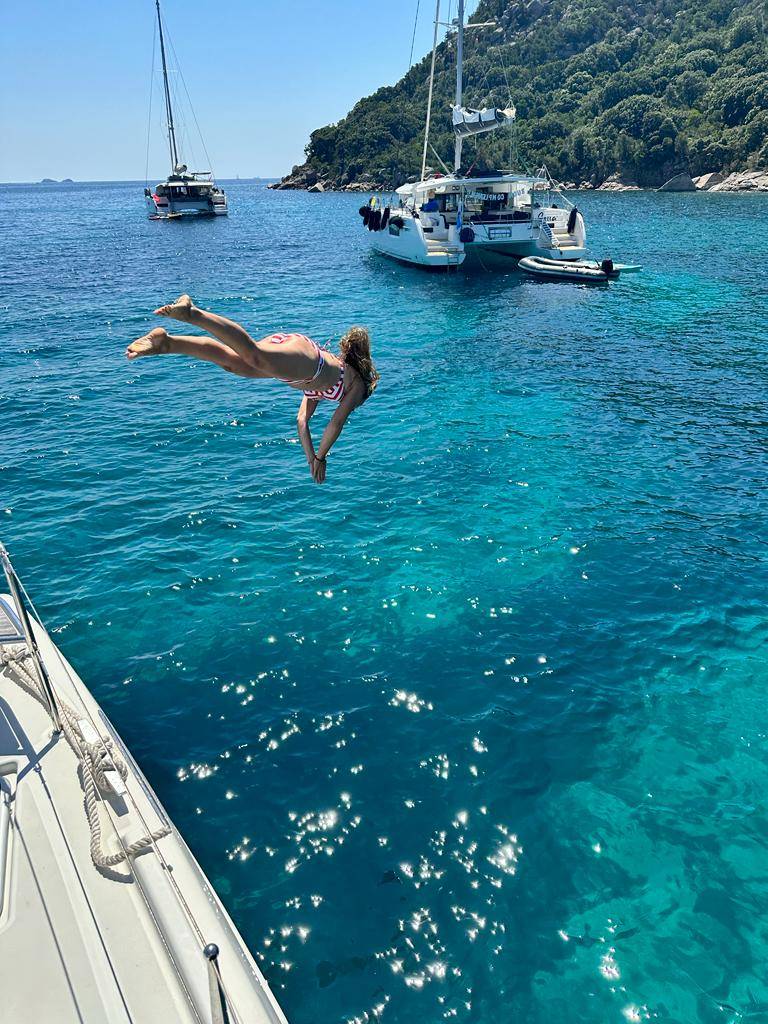 Catamarans are perfectly suited for long journeys due to their stability, comfort, and storage capacity. Here are some important points to consider for a long journey on a catamaran:
Autonomy: Catamarans are equipped with larger fuel and water tanks than monohulls, allowing them to have greater sea-going autonomy. This means you can plan longer crossings without needing to refuel or restock water frequently.
Onboard Comfort: Catamarans offer generous space both indoors and outdoors, enabling the crew and passengers to move around easily and enjoy optimal comfort during the journey. You can relax in spacious living areas, cook in a well-equipped kitchen, and rest in comfortable cabins.
Storage: Catamarans provide ample storage space for provisions, diving equipment, water toys, and any other gear you might need during the journey. This allows you to stay well-stocked and fully enjoy your trip without worrying about running out of storage space.
Stability at Sea: Catamarans offer excellent stability at sea due to their width and twin hulls. This makes them less susceptible to rolling movements, which is particularly important for long voyages where weather conditions can vary. You can enjoy a more comfortable and worry-free journey.
Safety: Catamarans are designed with safety in mind, featuring sturdy hulls and robust construction. Their stability at sea makes them less likely to capsize, and their twin-hull configuration provides extra safety in case of collision or contact with floating objects.
Sailing Navigation: Catamarans can be sailed, which can be a significant advantage for long journeys. By using the sails, you can save fuel and enjoy quieter, more environmentally friendly navigation. Additionally, catamarans are typically equipped with advanced navigation systems that facilitate route planning and execution.
Diverse Destinations: Catamarans allow you to choose from a wide variety of destinations for your grand journey. You can explore remote islands, exotic archipelagos, rugged coastlines, and much more. The possibilities are endless based on your preferences and interests.
In summary, catamarans provide everything you need for a grand journey: comfort, stability, autonomy, and safety. They are ideal for exploring new destinations and experiencing unforgettable sea adventures.
SAILOÉ will accompany you in the purchase and preparation of your catamaran, as well as provide assistance during your journey. With years of experience in boat and catamaran rentals, they can offer professional advice and expertise to support you throughout the process.
When purchasing a catamaran, they can guide you in finding the catamaran that best suits your needs, taking factors such as size, equipment, performance, etc., into account. They can also assist you in negotiations with sellers and guide you through the administrative formalities related to boat purchase.
Regarding catamaran preparation, they can advise you on necessary equipment, onboard arrangements, safety systems, possible enhancements, etc. They can help you make the right choices to tailor your catamaran to your needs and navigation plans.
As for assistance, SAILOÉ can provide ongoing support after the purchase, including maintenance, repairs, navigation advice, recommended routes, and more. Their experience and expertise in navigation can help you fully enjoy your catamaran safely.
SAILOÉ is a dealer of Lagoon catamarans in Brittany, and we will be able to advise you on purchasing a Lagoon catamaran specific to your needs and preferences.