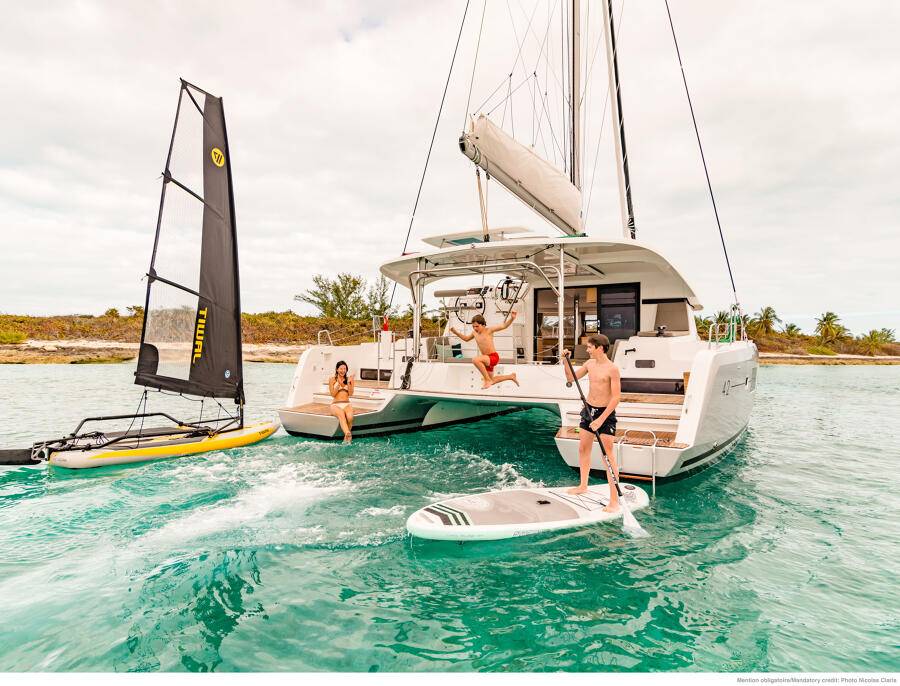 Here are some child-friendly activities you can plan during your catamaran cruise:
Swimming: Take advantage of crystal-clear waters and secluded beaches to let kids swim, play, and cool off.
Snorkeling: Equip kids with masks and snorkels to discover marine life-rich underwater ecosystems. Look for snorkeling spots suitable for children, with gentle currents and shallow depths.
Fishing: Introduce kids to fishing by teaching them the basics and letting them participate in catching smaller fish. Make sure to follow local fishing regulations.
Beach Games: Bring along beach toys like balls, kites, buckets, and shovels for kids to have fun on the shores.
Coastal Hiking: If you're stopping at islands with hiking trails, take kids on a short hike to explore local flora and fauna.
Water Activities: Depending on available opportunities and equipment, consider water activities like kayaking, paddleboarding, water skiing, or wakeboarding, tailored to the children's ages.
Marine Wildlife Observation: Keep an eye out for dolphins, sea turtles, and other marine animals that might cross your path. It can be an exciting experience for kids.
Board Games and Entertainment on Board: Prepare board games, books, movies, or other indoor-appropriate activities on the catamaran for rest times or in case of bad weather.
Always ensure proper supervision of children during water activities and adhere to safety rules at sea. Remember to allocate enough time for the activities and incorporate them into your overall itinerary.
Here are some suggestions to maximize space and enhance your catamaran vacation for the whole family:
Dedicated Spaces: Ensure each family member has a designated area to store belongings and relax. Catamarans often offer ample living, resting, and storage spaces, allowing you to create distinct zones for everyone.
Create a Play Zone for Kids: Dedicate a part of the outdoor or indoor space for a play area for kids. Set up comfortable mats, toys, books, and age-appropriate games.
Utilize Outdoor Spaces: Catamarans typically offer spacious outdoor areas such as trampolines and cockpits, where you can relax, sunbathe, and enjoy the view. Have lounge chairs, cushions, and umbrellas for added comfort.
Outdoor Dining: Arrange for outdoor meals on the catamaran's deck. Set up a table and chairs so the whole family can enjoy meals together while admiring the scenery.
Group Activities: Plan family-friendly activities that can be enjoyed onboard, such as board games, yoga sessions, cooking classes, or outdoor movie nights. This will strengthen family bonds and create unforgettable memories.
Themed Evenings: To make your vacation even more enjoyable, organize themed evenings aboard the catamaran. Whether it's a costume party, a barbecue night, or a game night, it'll add extra entertainment to your family vacation.
Relaxation and Rest: Schedule moments of relaxation and rest for the entire family. You can set up hammocks, comfortable cushions, or even a reading corner where everyone can unwind.

Remember to consider the needs and preferences of each family member when planning activities and utilizing space aboard the catamaran. The goal is to create a comfortable and inclusive environment where everyone can make the most of their vacation.