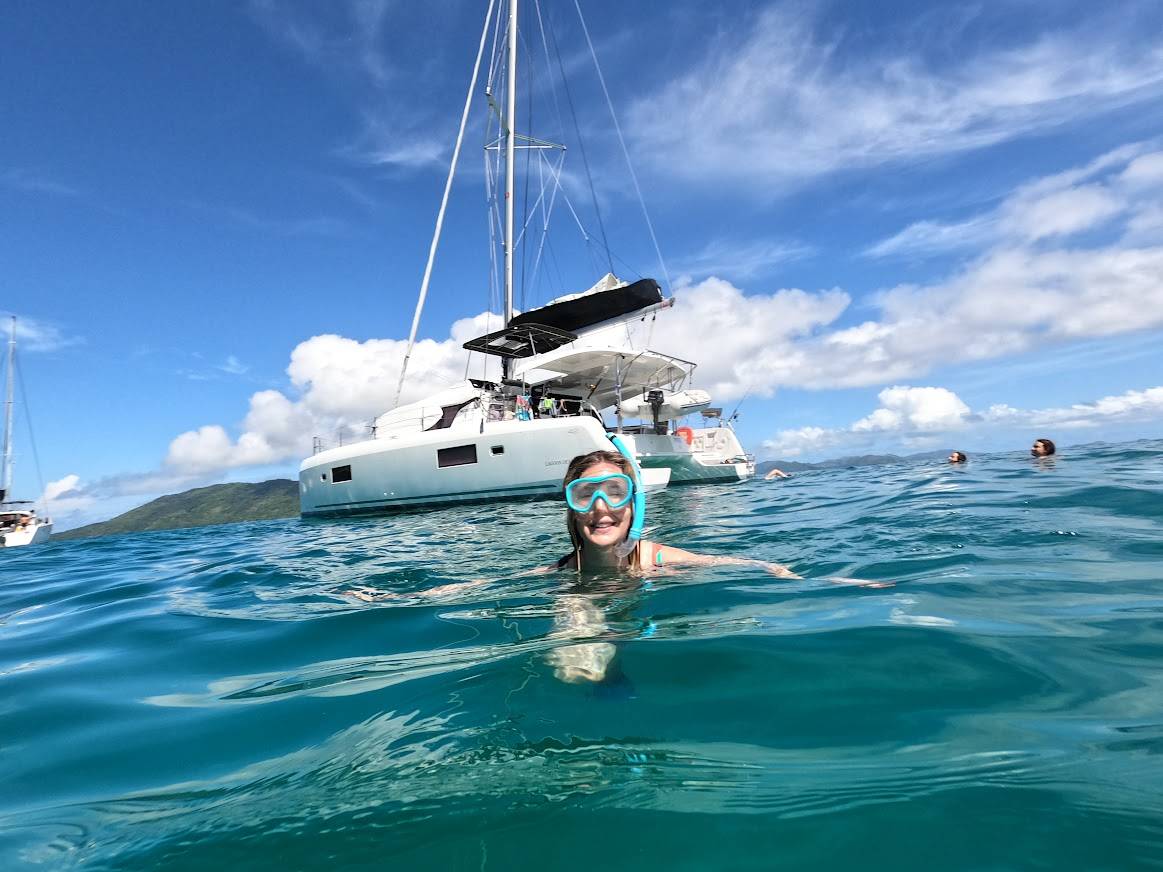 Sailing in the Seychelles on a catamaran during the summer is an extraordinary experience that will allow you to discover the wonders of this paradise archipelago. Here's what you can expect from your catamaran adventure in the Seychelles during the summer season:
Ideal tropical climate: During the summer, the Seychelles enjoy a warm and sunny tropical climate, with pleasant temperatures and refreshing sea breezes. You'll be able to enjoy sunny days, blue skies, and favorable sailing conditions.
Immaculate beaches: The Seychelles are famous for their pristine white sandy beaches, lined with palm trees and bathed in crystal-clear waters. By sailing on a catamaran, you'll have the opportunity to explore secluded beaches and relax on stretches of paradise-like sand.
Snorkeling and scuba diving: The Seychelles are home to some of the world's best diving sites. The warm and clear waters are teeming with colorful coral reefs, exotic tropical fish, and fascinating marine creatures. By donning your mask and snorkel or engaging in scuba diving, you'll discover a spectacular underwater world.
Island hopping: The Seychelles archipelago consists of numerous stunning islands, offering incredible diversity. Sailing on a catamaran, you'll be able to explore different islands, each with its own charm and unique attractions. From main islands like Mahé, Praslin, and La Digue to more remote and preserved islands, you'll have the opportunity to experience a variety of landscapes and cultures.
Exceptional flora and fauna: The Seychelles are a true biodiversity sanctuary, housing endemic species and lush flora. During your sailing journey, you'll be able to observe rare birds, giant tortoises, colorful fish, and perhaps even dolphins or sea turtles in their natural habitat.
Authenticity and tranquility: The Seychelles are renowned for their peaceful atmosphere and preserved authenticity. By sailing on a catamaran, you'll have the chance to escape touristy areas and discover secluded and unspoiled corners of the archipelago. You can immerse yourself in the tranquility of the islands, connect with nature, and enjoy a true sense of escape.
Sailing on a catamaran in the Seychelles during the summer will allow you to experience unforgettable moments amidst stunning landscapes.