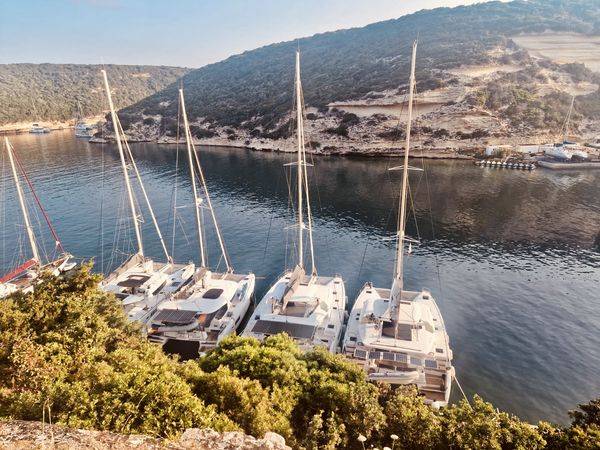 Discovering the islands of Maddalena from Bonifacio aboard a catamaran during a week-long cruise is an excellent way to fully enjoy this magnificent region. A catamaran cruise will allow you to navigate comfortably while relishing the spectacular landscapes and crystalline waters of the Mediterranean.
Throughout this week-long cruise, you can visit several islands of Maddalena, each offering its own charm and unique attractions. Here are some of the islands you could include in your itinerary:
Caprera Island: This island boasts stunning beaches and secluded coves, perfect for swimming and relaxation. You can also visit the house of Garibaldi, the famous Italian hero, which is now transformed into a museum dedicated to his life and work.
Spargi Island: Known for its turquoise waters and impressive rock formations, Spargi Island offers breathtaking landscapes. Enjoy the beauty of nature during a hike or simply relax on the sandy beaches.
Budelli Island: This island is famous for its pink sand beach called "Spiaggia Rosa." The unique color of the sand results from a blend of white sand and fragments of pink coral. The beach is protected, and its access may be regulated, but you can still admire its beauty from your catamaran.
Santa Maria Island: Another beautiful island with crystal-clear waters and picturesque beaches. It's an ideal spot for snorkeling, scuba diving, and water sports.
In addition to the main islands, your catamaran cruise will offer the opportunity to explore many other islets and picturesque bays throughout your sea journey. The islands and coastlines are filled with natural gems and breathtaking landscapes waiting to be discovered.
You'll sail along stunning coves and secluded bays where you can anchor and enjoy the tranquility of these preserved places. Imagine yourself lounging on the catamaran's deck, lulled by the lapping of water and surrounded by breathtaking panoramas. It's the ultimate relaxation experience, where you can escape from the world and connect with the beauty of the surrounding nature.
During your catamaran cruise, you'll be pampered by the onboard crew, who will delight in preparing delicious meals tailored to your culinary preferences. You can savor gourmet dishes made with fresh local ingredients while enjoying the breathtaking ocean views. Let yourself be enchanted by this unique culinary experience, where each meal becomes a memorable event.
Catamaran navigation also offers optimal comfort due to its stability and spacious living area. You can move freely onboard, relax in comfortable lounges and cabins, and fully enjoy your sea voyage. Whether you choose to spend your time sailing or lounging on the deck, you'll be surrounded by exceptional luxury and comfort.
In summary, a catamaran cruise will allow you to discover the hidden wonders of islands, islets, and picturesque bays while providing a comfortable and relaxing navigation experience. Enjoy every moment of your journey, exploring, relaxing, and being charmed by the landscapes and pleasures that only a catamaran cruise can offer.
Remember to check the weather conditions and plan your itinerary based on local recommendations and the points of interest you want to visit. A week-long cruise will let you discover the Maddalena islands at a leisurely pace and fully enjoy this extraordinary destination.