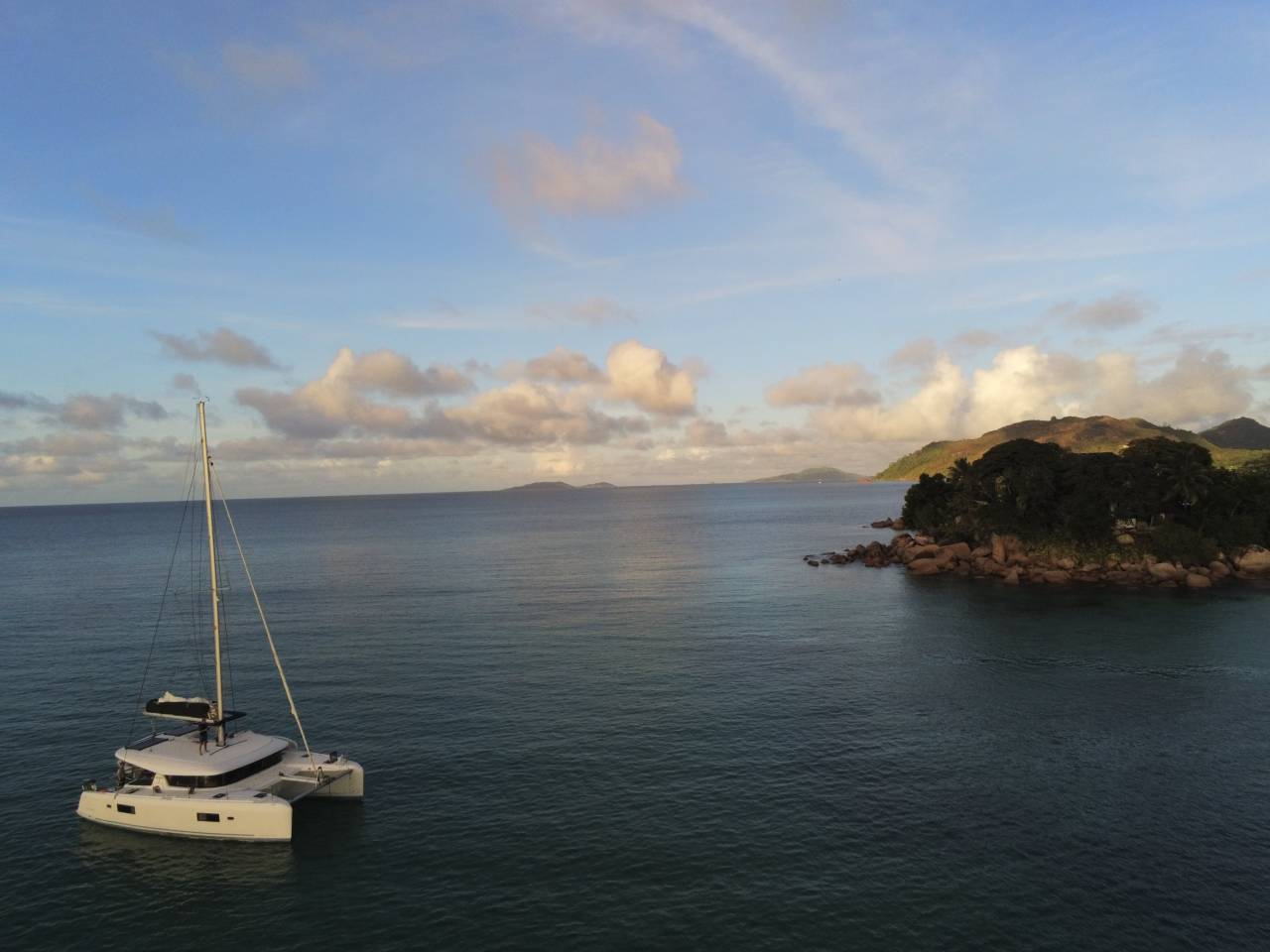 Sailing aboard a catamaran is a unique experience to discover the wonders of the Seychelles.
In this article, we will present to you the must-see attractions to visit during your cruise in this paradisiacal archipelago located in the Indian Ocean.
La Digue Idyllic beaches : La Digue is the third-largest island in the Seychelles and is renowned for its paradisiacal beaches. Among them, Anse Source d'Argent is considered one of the most beautiful beaches in the world, with its granite rocks, fine sand, and crystalline waters.
Anse Source d'Argent
Grande Anse
Petite Anse Anse Cocos
The Veuve Nature Reserve Located in the heart of the island, the Veuve Reserve offers a lush setting where several endemic species thrive, including the Black Paradise Flycatcher, a rare and protected bird. A stroll through this reserve will allow you to enjoy the exceptional fauna and flora of the Seychelles.
Praslin : The Vallée de Mai Listed as a UNESCO World Heritage Site, the Vallée de Mai is a nature reserve located in the heart of Praslin. It is home to the coco de mer, a Seychellois endemic palm tree whose fruits can weigh up to 25 kilograms. The Vallée de Mai is also an ideal spot to observe several bird species, including the Black Parrot unique to Praslin.
Praslin's beaches During your stopover in Praslin, don't miss the opportunity to enjoy the sublime beaches that the island has to offer. Among them, Anse Lazio and Anse Georgette stand out, both classified among the world's most beautiful beaches.
Anse Lazio
Anse Georgette
Grande Anse
Petite Anse
Kerlan
Curieuse The Curieuse Marine Reserve Curieuse is a small island located a few kilometers from Praslin. This protected marine reserve is home to numerous Aldabra giant tortoises that roam freely on the island. You can also enjoy beautiful beaches and lush vegetation during your visit to Curieuse.
Snorkeling and scuba diving The crystal-clear waters surrounding Curieuse are perfect for snorkeling and scuba diving. You can discover the richness of the Indian Ocean's underwater world and observe a multitude of fish species, corals, and other marine creatures.
Îlot Saint Pierre A must-visit snorkeling spot
Located near Praslin, Îlot Saint Pierre is a natural aquarium that will delight snorkeling enthusiasts. With its translucent waters and exceptional marine life, this is an ideal location for safely engaging in this activity.
Cousin An ornithological reserve Cousin is a small island located a few kilometers northwest of Praslin. It houses an important ornithological reserve where numerous endemic Seychellois bird species thrive. During your stopover, be sure to take a stroll through this reserve to admire these magnificent birds.
Sea turtles In addition to birds, Cousin is also a nesting site for sea turtles. If you visit the island between October and January, you might have the chance to observe these magnificent creatures as they lay their eggs on the island's beaches.
In conclusion, a catamaran cruise in the Seychelles will allow you to discover exceptional sites and fully enjoy the natural treasures offered by this paradisiacal archipelago. Don't hesitate any longer—embark on an unforgettable adventure!