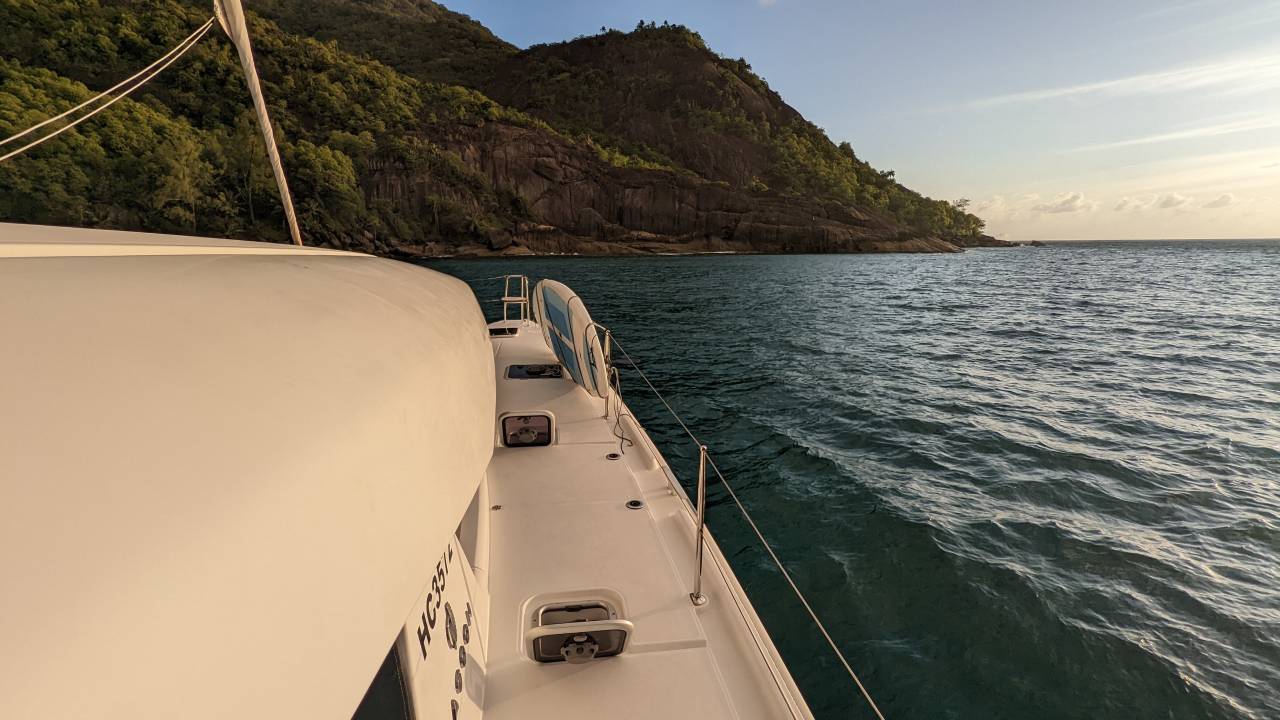 Are you dreaming of paradise vacations, far away from the crowds and daily stress? The Seychelles islands are the perfect destination for you! And what could be better than discovering these gems of the Indian Ocean aboard a catamaran? Here are some tips and tricks for a successful catamaran cruise in the Seychelles islands.
Choosing the Right Catamaran First and foremost, it's important to choose the catamaran that suits your needs and budget. There are several types of catamarans, ranging from family models to luxury yachts. Consider the number of people you're traveling with, the desired level of comfort, and the activities you want to engage in (diving, fishing, etc.).
Our suggestions: Family Catamaran: Ideal for families or groups of friends, this type of catamaran offers good value for money and friendly living spaces. Sporty Catamaran: If you're into thrills and water sports, opt for a sporty catamaran that's fast and agile. Luxury Yacht: For an unforgettable experience, choose a luxury yacht with a crew, offering all the comfort and services of a 5-star hotel.
Planning Your Itinerary The Seychelles islands are brimming with natural treasures to explore. Take the time to plan your itinerary based on the sites and activities that interest you the most. Don't forget to allocate navigation days to fully enjoy your catamaran and the beauty of the surrounding landscapes.
Some must-see spots:
La Digue: This island is renowned for its dreamy beaches, including Anse Source d'Argent, often considered one of the world's most beautiful beaches.
Praslin: Don't miss the Vallée de Mai, a UNESCO World Heritage site, where you'll find the famous coco-de-mer, an iconic symbol of the Seychelles.
Curieuse: This island houses a nature reserve where you can observe giant Aldabra tortoises and discover an exceptional ecosystem.
Sainte-Anne: This national marine park is a natural aquarium, perfect for snorkeling and encountering a multitude of marine species.
Considering the Weather Weather conditions can significantly impact your catamaran cruise. To make the most of your trip, take into account the season and weather conditions when planning your itinerary.
Best times for sailing in the Seychelles:
From April to May and from October to November: These periods correspond to the inter-seasons, with generally moderate winds and pleasant warmth. Water temperatures are also ideal for diving (between 28°C and 30°C).
From June to September: This is the southeast trade winds season, with stronger winds and rougher seas. However, the weather is usually sunny and dry.
From December to March, the Seychelles islands experience their rainy season, with frequent showers and sometimes heavy rainfall. 
Preparing for the Unexpected Lastly, even with meticulous preparation, it's important to prepare for the unexpected that can occur during a catamaran cruise. For example, pack basic repair equipment for your catamaran, seasickness medication, and a first aid kit. Also, don't forget to have appropriate travel insurance for your trip.
In summary: To succeed in your catamaran cruise in the Seychelles islands, choose the right catamaran, plan your itinerary considering the weather, and be prepared for the unexpected. Follow these tips, and you'll have an unforgettable vacation in this true earthly paradise!