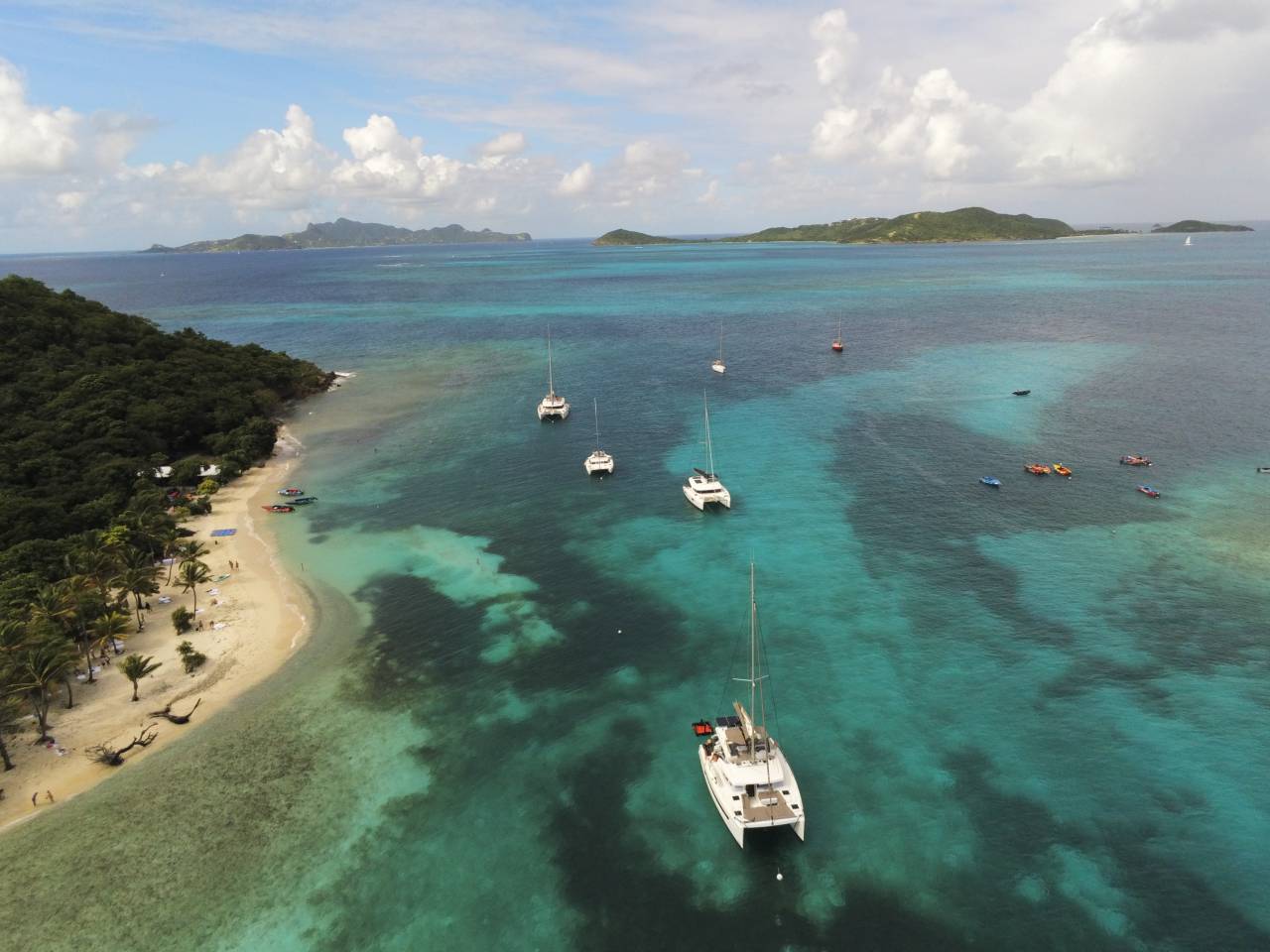 The Caribbean, with its crystalline waters and dreamy beaches, is the perfect destination for a boating vacation. If you're still undecided about the type of boat to choose, let us convince you of the advantages of a catamaran.
The benefits of a catamaran for sailing in the Caribbean
Unparalleled comfort: Thanks to its twin hulls, a catamaran offers more space and stability than monohull sailboats. Cabins are usually more spacious and brighter, making life on board much more enjoyable.
Easier navigation: The stability of a catamaran allows for smoother and less tiring navigation, even for those who are not accustomed to life at sea.
Exceptional anchorages: With their shallow draft, catamarans can get closer to the stunning beaches and coves of the Caribbean.
Allowing you to fully enjoy the breathtaking landscapes this region has to offer.
Some catamaran itinerary ideas in the Caribbean
Guadeloupe and its islands: The Guadeloupe archipelago is an ideal playground for catamaran sailing. From the white sandy beaches of Marie-Galante to the wild beauty of Les Saintes, there's something for everyone. Windward Islands: Explore the islands of Martinique, Saint Lucia, Barbados, and Saint Vincent and the Grenadines. Stops rich in history and culture against the backdrop of paradise-like landscapes. Leeward Islands: Discover the natural treasures of Dominica, Montserrat, Antigua and Barbuda, and the British Virgin Islands. An ideal itinerary for hiking and scuba diving enthusiasts.
The best times for a catamaran trip in the Caribbean
Dry season (December to April): This is the best period for sailing in the Caribbean, with pleasant temperatures and low rainfall. Winds are regular and moderate, making navigation easier. Wet season (June to November): Temperatures remain warm, but rains are more frequent, and the risk of hurricanes increases. However, it's still possible to sail during this period by carefully choosing your itinerary and staying informed about weather conditions.
Some tips for preparing your catamaran trip in the Caribbean
Check entry requirements: Before you go, check the entry and stay requirements for each country you'll be visiting. Also, ensure your passport is valid and consider purchasing travel insurance.
Pack the essentials: Don't skimp on sunscreen, sunglasses, and lightweight clothing. Don't forget your swimsuits and beach towels. Lastly, bring an electrical adapter compatible with local outlets.
Exercise caution at sea: While navigation conditions are generally favorable in the Caribbean, it's important to adhere to safety rules at sea. Always wear a life jacket and closely monitor the weather.
Different options for catamaran rental in the Caribbean
Bareboat charter: If you're experienced and have the necessary skills to navigate independently, you can opt for bareboat catamaran rental. Skippered charter: For those who prefer to be guided, skippered charter is an ideal solution. The skipper takes care of navigation and introduces you to the best anchorages in the Caribbean. Catamaran cruise: To fully enjoy your vacation without worrying about logistics, choose an all-inclusive catamaran cruise. The program includes navigation, dreamy stops, and customizable activities.
In summary, if you want an unforgettable experience during your trip to the Caribbean, a catamaran is the ideal choice. Comfort, easy navigation, and exceptional anchorages are all advantages that will surely captivate you. So don't hesitate any longer, set sail and embark on an adventure in the turquoise waters of the Caribbean!