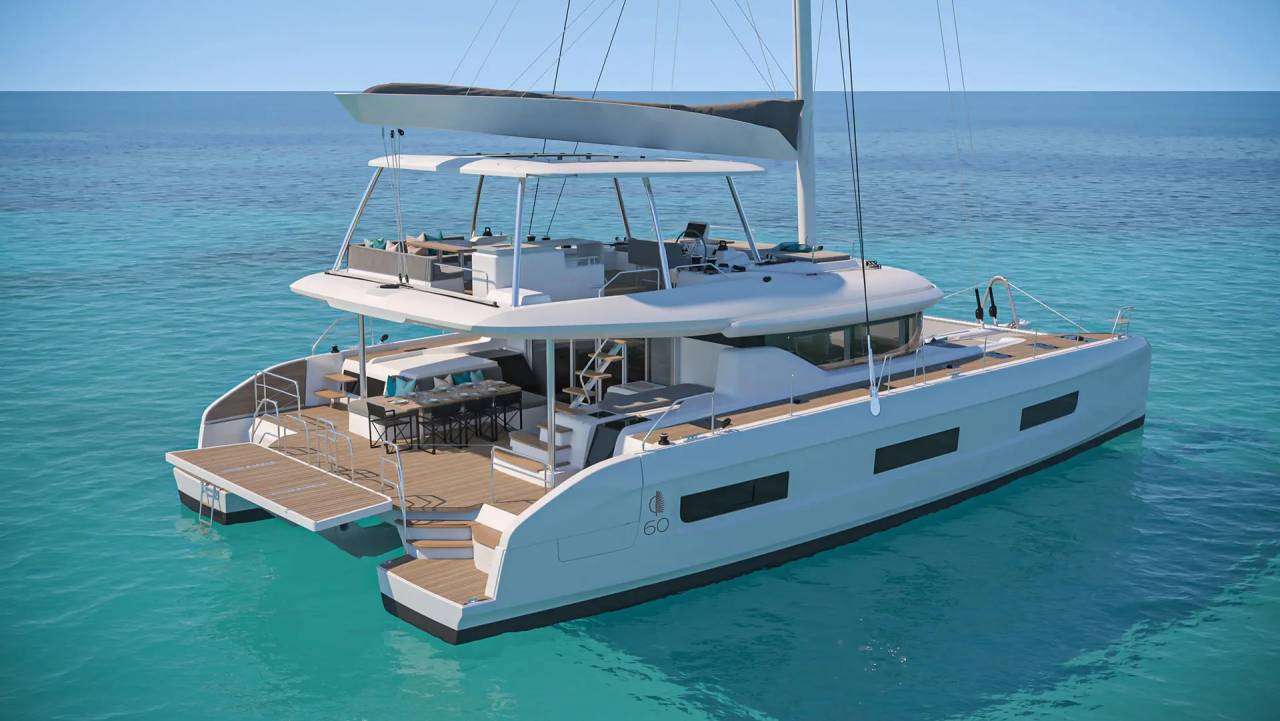 Step aboard the Lagoon 60 and let yourself be captivated by an unparalleled sailing experience. This luxury catamaran pushes the boundaries of elegance and sea comfort, and it's from the moment you step on board that you will understand why. With its revolutionary design and well-thought-out spaces, the Lagoon 60 promises an exceptional maritime adventure.
The Aft Cockpit: An Oasis of Freedom
As you ascend the wide steps of the Lagoon 60 to board, the aft cockpit welcomes you with open arms. This is where your journey to the endless horizon begins. The aft cockpit is completely open to the sea, offering an exceptional space of freedom. Its opening bulwarks provide you with instant access to swimming, allowing you to dive directly into the crystal-clear waters.
Designed to become your favorite space on board, the aft cockpit offers easy and secure access with its diagonally positioned steps. You can enjoy unforgettable outdoor meals, moments of relaxation in the sun, or evenings under the stars. The view of the horizon from this spot is simply breathtaking.
A Spacious and Connected Forward Cockpit
For an even more immersive experience, the Lagoon 60 offers a spacious forward cockpit accessible through a door at the front of the saloon, with no change in floor level. This forward cockpit provides a vast, comfortable, and welcoming relaxation space. You can enjoy a breathtaking panoramic view every time you transition between spaces on board.
No obstacles impede your movement from the stern to the bow of the catamaran. It's a perfect harmony between indoor and outdoor living spaces. You can relax with your loved ones, sunbathe, or simply soak in the beauty of the ocean stretching out before you.
The Art of Sociability
The Lagoon 60 not only offers impressive spaces but also fosters sociability on board. The saloon, which is versatile and spacious, adapts to all your desires. Whether you choose a kitchen or bar version, you'll benefit from abundant natural light thanks to its large vertical windows. It's the perfect place to prepare gourmet meals or savor a cocktail while enjoying the breathtaking view.
Sailing on board the Lagoon 60, you will experience the ultimate connection with the sea and outdoor spaces. Every detail has been carefully thought out to ensure you can enjoy every moment, whether you're admiring the horizon from the aft cockpit or relaxing in the comfort of the forward cockpit.
The Lagoon 60 redefines luxury at sea and invites you to embark on an unforgettable adventure where comfort and sociability are the key words. So, are you ready to set sail for new horizons on board this masterpiece of naval engineering?