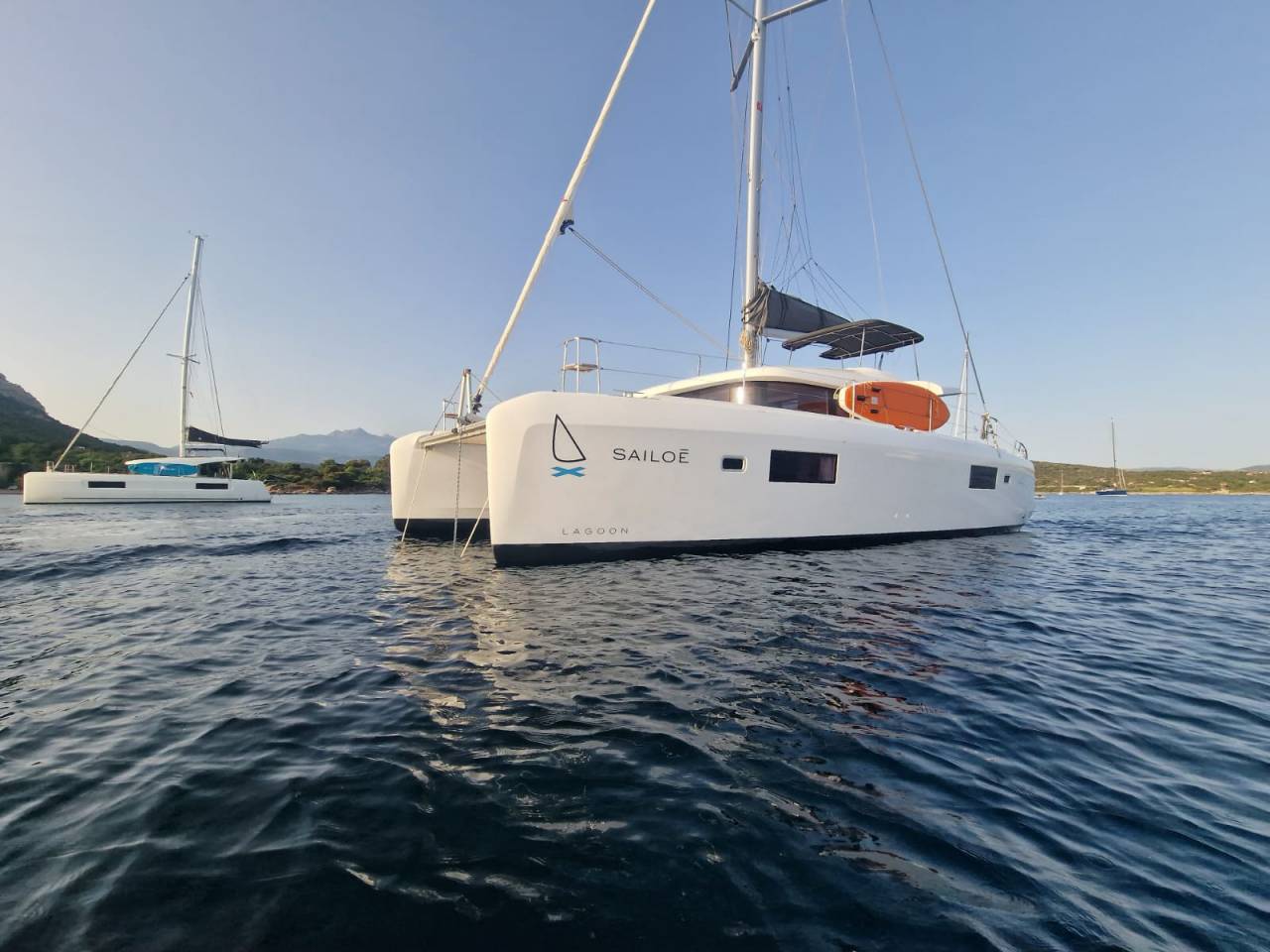 As summer comes to an end and the back-to-school season approaches, many are already thinking nostalgically about the vacations they've had. Yet, there's still time to enjoy the pleasures of sailing on a catamaran in Corsica, thanks to the late season that offers ideal conditions. Fewer people, still pleasant temperatures, and untouched nature are all advantages that make this period a privileged moment to recharge and experience unforgettable moments.
Favorable weather conditions
The late season in Corsica, which extends from September to October, generally enjoys a mild and sunny climate. Temperatures remain pleasant, ranging between 20 and 25°C during the day, while nights are cool and conducive to rest. The sea still maintains temperatures around 23°C, allowing for swimming and various water activities without any issues.
Winds, a crucial factor for navigation, usually blow moderately during the late season. Thermal breezes provide perfect conditions for sailing on a catamaran, whether it's for a leisurely cruise or a competitive regatta.
Less crowd to fully enjoy Corsica's charms The late season also means fewer tourist crowds. Beaches regain their tranquility, ports are less congested, and it's easier to find a spot to anchor your catamaran. Far from the summer crowds, you'll enjoy a preserved and peaceful environment to discover or rediscover the wonders that the Island of Beauty holds.
Preserved and authentic nature Corsica offers a multitude of diverse and spectacular landscapes, including steep mountains, lush forests, and paradisiacal beaches. Sailing on a catamaran during the late season allows you to fully appreciate these natural riches, as vegetation regains its dominance and autumnal colors start to appear.
Numerous stops await you on your catamaran journey, such as:
The Calanques of Piana, listed as a UNESCO World Heritage site
The Gulf of Porto, with its crystal-clear waters and exceptional seabeds
The Scandola Nature Reserve, a true haven of biodiversity
The Lavezzi Islands, with their fine sandy beaches and turquoise waters
Water activities for every taste Sailing on a catamaran also opens up opportunities for various water activities, such as:
Scuba diving, to explore wrecks and coral reefs
Snorkeling, to observe marine fauna and flora on the surface
Fishing, to try and catch the catch of the day
Paddleboarding, for a gentle paddle along the coasts
Advantageous rates for sailing in the late season
For example:
Bali 4.2 Sunday-Sunday 27/08 - 10/09 - 20% discount
Lagoon 42 Saturday-Saturday and Lagoon 450 02/09 - 16/09 - 20% discount
Lastly, the late season offers generally more affordable rates than the high season. Service providers often offer promotions and special deals to attract sailors, whether it's for catamaran rentals, sailing lessons, or organized excursions.
To make the most of the late season in Corsica, it's important to properly prepare your trip. Check the weather conditions, access rights to protected natural areas, and the current health measures. Don't hesitate to seek the expertise of local professionals to accompany you on this adventure.
So, if you dream of escape and a change of scenery, don't miss this unique opportunity to sail on a catamaran in Corsica during the late season. With ideal conditions, exceptional landscapes, and sought-after tranquility, you'll undoubtedly experience unforgettable and rejuvenating moments.