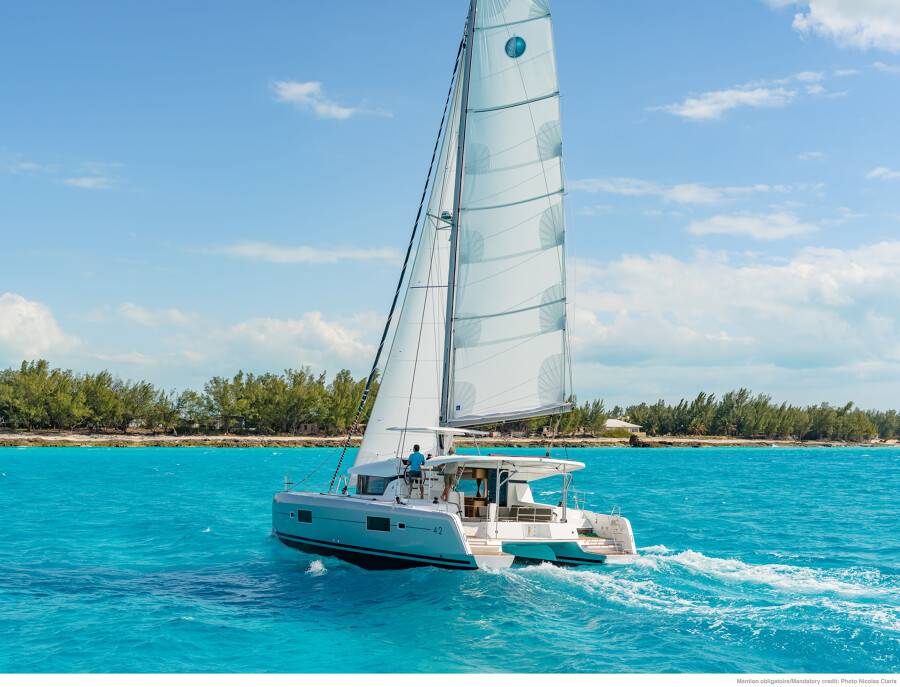 The Lagoon 42 is a model of catamaran that has captured the hearts of sailors worldwide since its launch in 2015. With over 1000 units produced in just a few years, it has become a popular choice for those seeking a top-notch sailing experience. In this text, we will explore in detail the features, performance, comfort, and appeal of the Lagoon 42, highlighting why it is considered one of the most fabulous catamarans for cruises and sea adventures, whether they are short or long term.
History and Evolution of the Lagoon 42
The Lagoon 42 is a product of the renowned shipbuilding company Lagoon, which has a well-established reputation in the industry for many years. The Lagoon range is synonymous with quality, innovation, and performance, and the Lagoon 42 is no exception. It was introduced to the market in 2015 and quickly gained popularity due to its unique features and revolutionary design.
The Lagoon 42 catamaran is the result of the constant evolution of pleasure catamaran design. It embodies Lagoon's commitment to staying at the forefront of the industry by introducing ongoing innovations and improvements. Since its launch, updated and improved versions have been produced to meet the changing needs of sailors and adapt to the latest trends in technology and design.
Technical Features
The Lagoon 42 is a 42-foot long catamaran (about 12.8 meters) with an impressive width of 7.5 meters. This generous width allows the boat to offer spacious indoor and outdoor living space, making it an ideal choice for family or friends' cruises. The catamaran is also equipped with two engines, significantly improving its maneuverability and stability.
One of the most remarkable features of the Lagoon 42 is its reversed hull design. Unlike many other catamarans, the Lagoon 42 has reversed hulls that increase hull efficiency, reduce drag, and enhance sailing performance. This innovative design allows the catamaran to glide smoothly on the water, providing an exceptional sailing experience.
In terms of capacity, the Lagoon 42 can comfortably accommodate a crew of 8 to 12 people, depending on the chosen interior configuration. Various layout options are available, including versions with 3 to 4 cabins, each with its own bathroom. This allows sailors to choose the configuration that best suits their needs and preferences.
Sea Performance
The Lagoon 42 is known for its excellent sea performance. Thanks to its reversed hull design and two engines, it offers a comfortable cruising speed, making it an ideal choice for long offshore crossings. The catamaran's stability is also a major asset, making it suitable for changing sea conditions and varying winds.
The Lagoon 42 is equipped with a high-performance rig, allowing for efficient sailing. It is also easy to maneuver, making it suitable for sailors of all experience levels. Whether you are an experienced sailor or new to the world of sailing, the Lagoon 42 provides a pleasant and reassuring sailing experience.
Comfort and Amenities
In addition to its impressive performance, the Lagoon 42 stands out for its exceptional comfort on board. The indoor living space is spacious, bright, and airy, thanks to large windows offering a panoramic view of the ocean. The cabins are well-appointed, providing a private and comfortable space for the crew.
The kitchen is fully equipped with modern appliances, allowing for delicious meals even on the high seas. The outdoor living spaces are equally impressive, with a large aft cockpit for al fresco dining and a lounge area on the foredeck for relaxation and enjoying the sun. The Lagoon 42 offers a luxurious outdoor living experience, perfect for sunny cruises.
The boat is also equipped with all the amenities necessary for a comfortable cruise, including air conditioning to regulate the temperature inside the boat, a generator for continuous electrical power, and advanced navigation systems to ensure safety at sea.
Design and Aesthetics
The Lagoon 42 also stands out for its modern and elegant design. The reversed hull gives it a distinctive and dynamic appearance, while the interior is furnished with high-quality materials and meticulous attention to detail. The interior design is available in various options, allowing owners to customize their space according to their color and material preferences.
The catamaran is also available in a variety of hull finishes and aesthetic details to cater to individual tastes. Whether you prefer a sleek and clean look or a more bold and modern style, the Lagoon 42 can be customized to reflect your personal style.
Ideal for Cruising and World Tours
The Lagoon 42 is an ideal choice for family, friends, or couples' cruises. Its ability to comfortably accommodate a crew of 8 to 12 people makes it suitable for sea vacations, whether for weekend getaways or multi-week journeys.