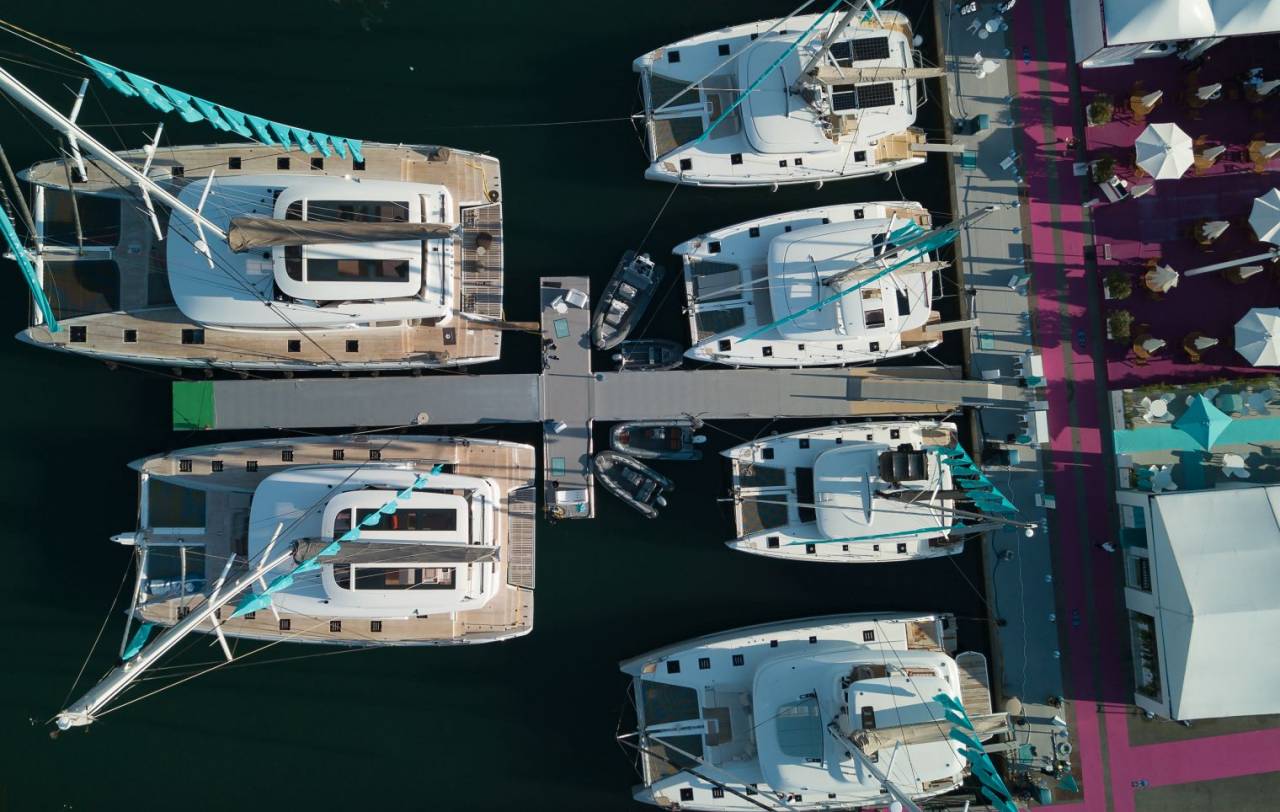 We are delighted to invite you to join us at the Lagoon booth at the Cannes Yachting Festival. The event will take place from September 12th to 17th, and you can find us at the two iconic ports of Cannes: the Vieux Port and the Port Canto.
The turquoise brand will showcase six of its sailboats. Take the opportunity to step aboard the Lagoon 42, Lagoon 46, Lagoon 55, SIXTY 5, or SEVENTY 7. Not to mention the brand's newest addition, the Lagoon 51!
The Cannes Yachting Festival is one of the world's largest nautical exhibitions, offering an unparalleled experience in an exceptional setting along the famous Croisette. It's the perfect opportunity to immerse yourself in the luxurious world of yachts and sailboats, with breathtaking views of the sunny coastline of the beautiful French Riviera.
Our experienced team will be there to accompany and advise you in choosing the boat that best suits your needs and desires. Whether you're looking to purchase a catamaran for unforgettable Mediterranean getaways or seeking to rent a yacht for a luxurious vacation experience, we have the perfect solution for you.
We offer an exclusive selection of catamarans, ranging from classic models to the latest technological innovations, all carefully chosen to meet your highest expectations in terms of comfort, safety, and performance.
So, meet us at the Cannes Yachting Festival to experience a unique nautical journey and discover our exceptional collection. Feel free to contact us to schedule an appointment in advance for personalized service during your visit.
We look forward to meeting you and helping you realize your wildest maritime dreams. See you soon on the Croisette!
Don't hesitate to make an appointment today to visit the catamaran(s) of your dreams! Simply send us an email at: sailoe@sailoe.com
The SAILOÉ Team.
SAILOÉ is the exclusive distributor of Lagoon catamarans in Corsica and Brittany.
Corsican Representative
Pierre-Marie BAZIN
+33 6 60 65 39 90
pierremarie@sailoe.com
Brittany Representatives
Stéphane BARIOU
+33 6 60 47 20 04
sbariou@sailoe.com
Bruno GILLARD
+33 7 89 02 34 12