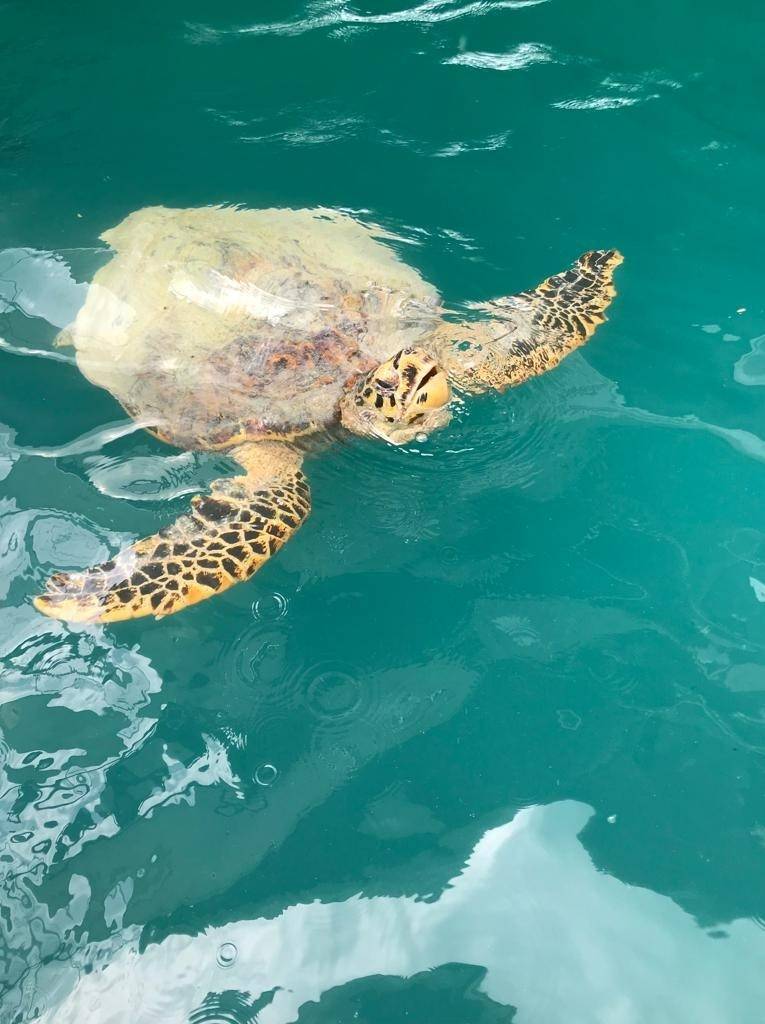 The Seychelles are a paradise for snorkeling: warm, crystal clear waters and excellent visibility!
The seabed of the archipelago is full of fish, rays and other turtles, just put your head under water to discover incredible underwater life.
Praslin
Anse Lazio
It is one of the most beautiful beaches in the world and it is possible to observe blue trevally, garfish, surgeonfish, checkerboard wrasse, small moray eels.
Anse Petite Cour
Anse Petite Cour is a small beach nestled in the north coast of Praslin, offering a superb view of Curieuse Island.
Saint-Pierre island
An idyllic diving spot. This small islet offers a giant aquarium where mask and snorkel diving is ideal. These sea beds are full of multicolored fish in crystal clear water.
It is easy to observe surgeon-clowns, sergeant-majors, trevallies and fusiliers.
Anchorage, even during the day, is chargeable.
Anse-Volbert
No coral gardens but sand and seagrass beds home to starfish, exotic fish and even young hawksbill turtles.
Anse de La Blague
A little isolated beach, the bottoms are quite poor there but it is possible to see moray eels, triggerfish, sergeant majors and many other colorful fish.
Anse La Farine
This anchorage is rich in coral and is home to many fish.
La Digue
Anse Source d'Argent
Its idyllic landscape is made up of long coconut palms and large granite rocks eroded by the turquoise sea, in perfect font a postcard from the Seychelles and it is possible to observe a lot of fish waiting there.
Anse Caiman
This cove is famous for observing turtles.
Anse Severe 
It allows you to snorkel in a closed lagoon. With your mask and snorkel, expect to see surgeon fish, angel fish, hawksbill turtles and eagle rays
Anse Patate
Its soft white sand makes it a perfect beach for discovering snorkeling in the Seychelles.
Felicite and big sister
Coco Island
This small island near La Digue is surrounded by very beautiful seabed and magnificent corals. It is possible to admire hawksbill turtles, leopard rays, blue damselfish...
Mahe
Port Launay
The Port Launay Marine Park, in the northwest of Mahé, is full of angelfish, moray eels, turtles. It is possible to see more than 60 species of fish there.
Anse-Major
This small bay with crystal clear waters is home to superb reefs full of underwater life, and you will have a great time underwater.
Baie Lazare
Baie Lazare, adorned with a lagoon and lined with coconut palms, is one of the most beautiful beaches on Mahé. Partly protected by a coral reef, it is home to an excellent snorkeling spot where you can explore both the lagoon and the outer face of the reef. On the program, in particular, several species of angelfish and impressive schools of humpback parrotfish.
Anse Soleil
Anse Soleil, nestled in tropical vegetation, is a small haven of peace much appreciated by Seychellois. Its 300 meters of beach, bordered on both sides by granite rocks, open onto a small bay with calm, turquoise waters. With its coral reefs in perfect condition and its abundant underwater life, Anse Soleil is one of the best snorkeling spots on the coast of Mahé.
Fairyland beach
A popular little beach in the southwest of Mahé, Fairyland Beach offers a heavenly setting, with coconut trees and granite boulders overlooking a crystal-clear lagoon. From the point of view of snorkeling, the funds are not extraordinary, but make it possible to observe a beautiful diversity of colored fish, and this at shallow depth.
Sainte-Anne Marine Park
The Sainte-Anne Marine National Park was created in 1973 to protect the marine environment of this small group of six islands located less than 5 kilometers off the coast of Victoria, the Seychelles capital. It is the first marine protected area to have been developed in the South West Indian Ocean. Accessible only by sea, the Park brings together a unique concentration of marine ecosystems. It protects coral reefs, but also one of the largest granite bed seagrass in the Seychelles. In the warm waters revealing the islands, snorkelers will observe a large number of tropical species, including manta rays, which visit the area every year from April to December.
More information on this site grouping all the snorkeling sites in the Seychelles:https://www.snorkeling-report.com/fr/region/snorkeling-seychelles/