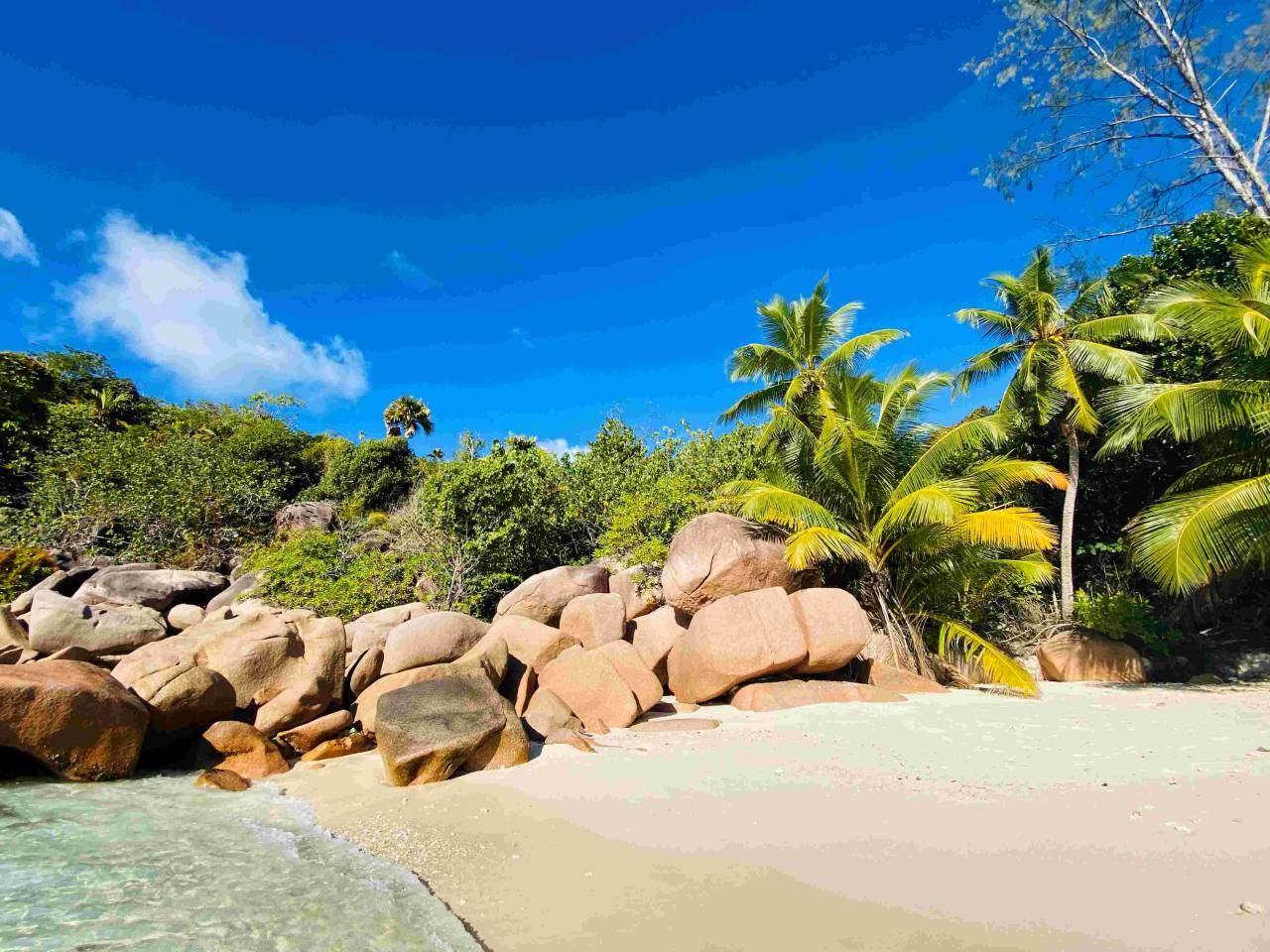 Located in the Indian Ocean, off the eastern coast of Africa and about 1,000 kilometers northeast of the shores of Madagascar, the Seychelles archipelago, consisting of 116 natural and artificial islands and islets, offers its visitors breathtaking landscapes. Nature has been generous with pristine beaches, paradisiacal islands where unique fauna and flora thrive. All of this is accompanied by exceptional sunsets... A true postcard that attracts around 330,000 tourists annually, which is a little over three times the population of the country, currently numbering around 108,000 souls.
Anse Source d'Argent: the most photographed beach in the world Anse Source d'Argent is undoubtedly one of the most iconic beaches in Seychelles. Located on La Digue Island, this beach provides a breathtaking visual spectacle with its smooth and pink granite rocks standing out beautifully against the turquoise-blue water. You can enjoy crystal-clear water perfect for swimming and snorkeling, as well as bike or walk along this palm-fringed beach.
Anse Lazio: a haven of peace on Praslin Island Considered one of the most beautiful beaches in Seychelles, Anse Lazio is a true paradise located on Praslin Island. With its fine white sand, crystal-clear waters, and granite rocks, this beach offers an idyllic setting for relaxation or various water activities. Moreover, it is bordered on one side by lush vegetation and on the other by a coral reef sheltering exceptional marine life.
Anse Intendance: the wild beauty of Mahé Located on the southwest coast of the main island of Mahé, Anse Intendance is a wild and preserved beach, renowned for its impressive waves and fine white sand. This beach is ideal for surf enthusiasts or simply for those who wish to enjoy a breathtaking natural setting, away from the crowds and surrounded by untouched nature.
Denis Island: a private tropical paradise Also known as "île Denis" in French, Denis Island is a private island offering an intimate and exclusive setting for those seeking peace and tranquility. Its beaches of immaculate white sand, crystal-clear waters, and lush vegetation make it an ideal haven to rejuvenate or enjoy splendid sunsets.
Îlot Saint-Pierre: a preserved gem Located a few kilometers off the coast of Praslin Island, Îlot Saint-Pierre is a true hidden treasure of Seychelles. Its deserted and wild beaches will allow you to enjoy rare tranquility, while its abundant underwater life will delight scuba diving or snorkeling enthusiasts. For the more adventurous, it's also possible to reach this islet by kayaking from Cote d'Or Beach on Praslin Island.
Anse la Liberté: an intimate and peaceful beach Situated on Mahé Island, Anse la Liberté is a small and less crowded beach that offers a peaceful and intimate setting. Bordered by dense and lush vegetation, it allows you to enjoy a swim in crystal-clear water away from prying eyes. A true paradise for those seeking to escape the tourist hustle and bustle.
Grand Anse: a spectacular and wild beach Grand Anse, located on La Digue Island, is an impressive beach due to its size and wild appearance. Surrounded by steep cliffs and bordered by lush vegetation, it offers a spectacular setting for a refreshing swim or a stroll along the fine sand. However, beware of strong currents in some areas.
The Seychelles offer diverse and paradisiacal beaches, ideal for all tastes and desires. Whether you're a fan of lounging, scuba diving, surfing, or simply in search of breathtaking landscapes, this archipelago will undoubtedly delight your senses and leave you with unforgettable memories.