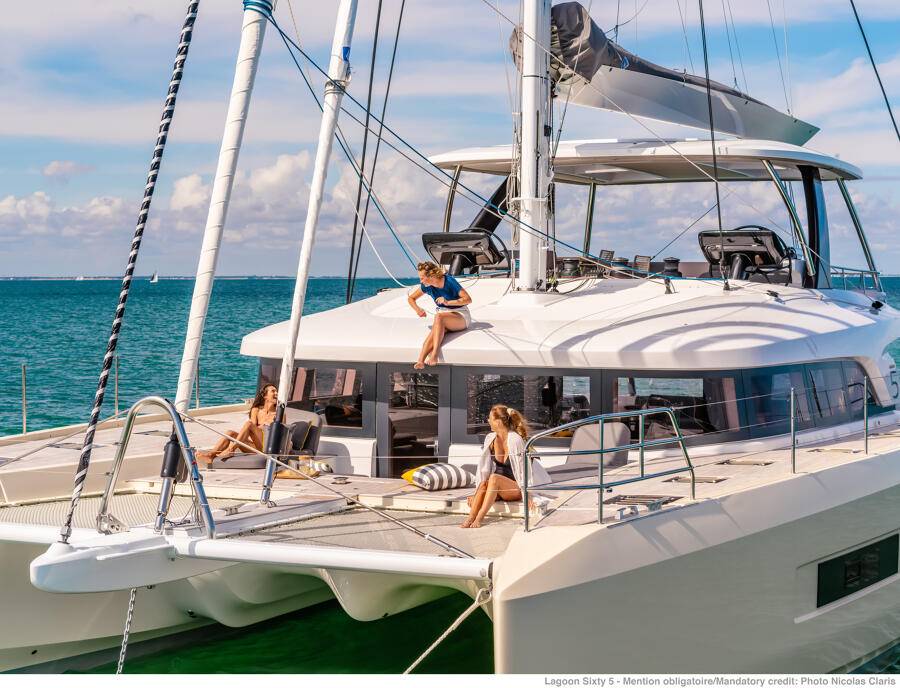 World leader in cruise catamarans, LAGOON has continuously innovated to offer its customers an unforgettable sailing experience. With already 7,000 units built in nearly 40 years, the French brand never ceases to amaze with models that are increasingly spacious, modern, and high-performing. Let's explore together the latest additions to this iconic range.
Lagoon 60: A Giant of the Seas Unveiled at the Cannes Yachting Festival
With the advent of the Lagoon 55, it was time for the world leader in cruise catamarans to launch an even larger model. This is how the Lagoon 60 was announced at the prestigious Cannes Yachting Festival.
While generally maintaining the silhouette of the 55, this new model incorporates a sail plan featuring the latest 51's overlapping genoa. The main innovation lies in the rear of the cockpit, which literally transforms into a beach club with the removal of the traditional bench. This enormous space offers an unparalleled relaxation area for sailors.
Lagoon catamarans are renowned for their performance, innovative design, and unmatched comfort. In this article, we present the range of Lagoon models, including the Lagoon 40, Lagoon 42, Lagoon 46, Lagoon 51, Lagoon 55, Lagoon 60, Sixty 7, Sixty 5, Lagoon Seventy 7, and Seventy 8. Whether you are an experienced sailor or simply a boating enthusiast, discover the exceptional features of these exceptional sailboats here.
When it comes to luxury catamarans, Lagoon stands out for its attention to detail and constant innovations.
The Lagoon 51, a more modern version of the popular Lagoon 50.
The Lagoon 55, a catamaran combining performance and optimal comfort.
The Lagoon 60, a reference in terms of space and tranquility on board.
The launch of the Sixty 7 and Sixty 5, two models with elegant and sophisticated lines.
Beyond these new additions, Lagoon also strengthens its flagship range with the classics Lagoon 40, Lagoon 42, and Lagoon 46, which continue to attract an ever-wider clientele.
Lagoon 51: Performance and Modernity
As a worthy successor to the renowned Lagoon 50, the Lagoon 51 stands out as a true model of performance and comfort. Its modern and aerodynamic lines diverge slightly from those of its predecessor, offering a more dynamic and sporty sailing experience. Inside, the clean decor and noble materials used make this catamaran a true cocoon on the water.
Lagoon 55: Luxury at Your Fingertips
Combining elegance and practicality, the Lagoon 55 is a true floating palace. Its generous volumes and meticulous furnishings make it an ideal choice for long stays at sea. Life on board is particularly pleasant, thanks to seamless circulation between indoor and outdoor spaces, as well as luxurious finishes that are subtle yet opulent.
Flagship Models: Lagoon 40, Lagoon 42, and Lagoon 46
Year after year, the Lagoon 40, Lagoon 42, and Lagoon 46 models confirm their status as essential players in the catamaran market. All three stand out for:
Their sailing performance
Their ability to provide an increasingly comfortable sailing experience.
Numerous interior layout options to meet the desires and specific needs of sailors.
In summary, these flagship models embody the excellence of the Lagoon brand and will undoubtedly continue to captivate a demanding clientele that appreciates the finer things in life.
Sixty 7 and Sixty 5
These two new models enrich the already extensive range of Lagoon catamarans. The Sixty 7 and Sixty 5 are yachts with a modern and refined design, offering exceptional accommodations in terms of both comfort and functionality:
Spacious and bright living spaces, with smooth circulation between different areas.
A high-performance propulsion system ensuring smooth and quiet navigation.
Modular layout options allowing for extensive customization according to owners' preferences.
Always at the forefront of innovation, Lagoon continues to push the boundaries of comfort and performance in luxury catamarans. Whether you are drawn to the space offered by the Lagoon 51 or prefer the clean design of the Sixty 5, there is no doubt that this range will meet your expectations.